Mai 05, 2022
After the scrapping of a freight wagon and two diesel locomotives of Wiener Linien last year, another well-known and popular means of transport has now been sent on its "last journey" to MGG Metrec in Amstetten – an original Viennese tram set.
The "Bim" – the epitome of Vienna's public transport system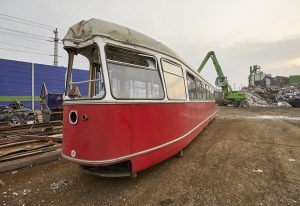 For many people, the Type E2 tram represents the classic image of the city of Vienna. The tram set travelled tens of thousands of kilometres in the core zone of the federal capital. Now it has started its last journey into the heart of the Mostviertel. The transport was carried out by a suitably equipped lorry from the Felbermayer company, as the wheels of the popular Viennese "Bim" had already been removed in advance.
The 24.5 tonne vehicle had been on the routes of the Wiener Linien for several decades, transporting millions of passengers from A to B. What exciting stories would this "Bim" tell if it could talk?
Despite its typical appearance and high reliability, progress is also a constant companion in public transport, and so the familiar "Bim" models are often replaced by newer, barrier-free variants.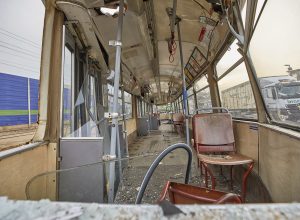 For this reason, the scrapping of the vehicle from the E2 series was also a foregone conclusion. Due to the length of the vehicle of about 19 metres alone, this was no easy task for the MGG Metrec employees. But the team at the recycling plant in Amstetten has a lot of experience to offer. "Having handled several of these special orders well in the past, we know exactly how to proceed in order to work efficiently," says production manager Hannes Grissenberger. After just a few hours, there is little left to see of the red-and-white painted tram. New raw materials are created from the recycled metal parts, and so the cycle of recyclable materials starts all over again.
A highlight for young and old
Curious now? All those interested in trams have the opportunity to delve deep into the history of Vienna's public transport and gain an insight into the development of public transport in Vienna. In Vienna's 3rd district, near the Schlachthausgasse station, you will find the Remise Transport Museum of Wiener Linien. Through various stations consisting of theory but also practical exercises, children as well as adults can immerse themselves in the world of "public transport".