April 17, 2019
Recycling of plastics – not always easy, because much for this has not yet been sufficiently researched. However, with the "Plastics Strategy" proclaimed by the EU in 2018, the path for Europe is clearly set – recycling rates are to be increased dramatically! MGG Polymers is well positioned for this – an internal research and development team has been working for years on ideas to recycle more plastics than before. Good solutions, however, require time and patience. "As early as 2012, we have already started to think about how the separation and refinement of PC/ABS by type could succeed. It then took six years before it was ready for series production," says Günther Höggerl about the long development path taken by MGG Polymers.
It was quite a risk when MGG Polymers decided years ago to tackle the recycling of PC/ABS (polycarbonate/acrylonitrile butadiene styrene). While some plastics can already be recycled relatively easily and profitably, until recently PC/ABS was one of those plastics that had to be disposed of – i.e. incinerated. At the start of the project there were neither known separation processes nor experience with the separation of this polymer. It had been high time for the development team to change this.
Strong results
MGG Polymers tackled the expedition into unknown territories with strong partners. Before that, however, the company improved its own separation processes. "In some cases, a really big effort was required. For example, the technologies behind these separation steps had to be developed from scratch," reports Günther Höggerl. The project was finally completed in 2018 – a big step forward that brought amazing results.
MGG Polymers as trendsetter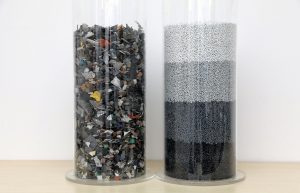 To complete the recycling of PC/ABS, the material has to be not only optimally sorted, but also compounded and granulated. In order to successfully master this step, a tailor-made extrusion line was designed in cooperation with an Austrian machine manufacturer. This line conceals important innovations – such as high-performance degassing devices, which are now increasingly used in the industry. MGG Polymers has thus set new trends, which is not surprising in view of the advantages for Höggerl: "This high-performance degassing system enables pollutants that are generated during the processing to be removed much more effectively. This also improves the odor of the finished product – which is particularly important for customers in the automotive industry".
The system also enables the dosing of additives in their pure form. This allows the properties of the produced recycled plastic to be significantly influenced. "It is not always easy to obtain finished additive solutions for our sorted recycled plastics on the market. Therefore, we have to develop them ourselves to some extent. Thanks to our flexible plant, we can always try out a few things here," Höggerl sees many more development opportunities.
PCR plastic as good as new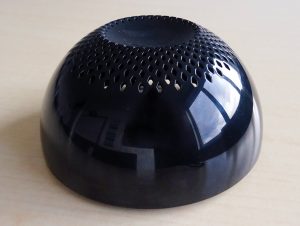 Years of effort have paid off: the PC/ABS recycled by MGG Polymers can be used for housings of new electronic devices. The company is very proud of the fact that this plastic has once again succeeded in meeting all relevant properties including the optical requirements for high-gloss housings such as beamers, routers, setup boxes and loudspeaker covers. "Manufacturers have subjected our post-consumer recycled plastic to numerous tests and certified that they found no difference between the material of MGG Polymers and virgin material," says Höggerl, pleased that the hard development work has paid off. The PC/ABS recycled by MGG Polymers also offers an ideal basis for applications in the automotive industry.
Since 2018, MGG Polymers has been commercializing the "new" recycled plastic PC/ABS at various well-known customers – allowing the development team a short break. For the company's management, the recycling of PC/ABS represents the start of a whole series of developments at MGG Polymers. Other types of plastic are to be recycled in the coming years – also because there are changes in some areas. "We are closely observing our target markets and therefore already know today that the composition of plastics in consumer products is constantly changing. After all, today's electrical appliances are not the same as they were 5, 10 or 15 years ago," explains Höggerl. "Since the company was founded in 2005, we have carried out extensive analyses of the quality of the waste streams delivered to us and can therefore say exactly which types of plastics will increase or decrease in percentage terms over the years. This of course helps us to choose which plastic we want to recycle next".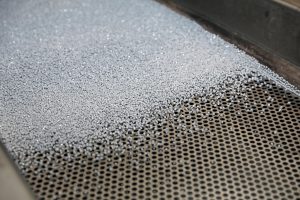 Application instead of theory
The preparations for this are already underway, and one thing is clear – breaking new ground is easier together than alone. For this reason, MGG Polymers maintains a number of partnerships with universities, research institutes and machine partners. The focus is currently on the possibilities and limitations of sensor-based sorting, which is expected to lead to a technological leap in the coming years.
"We combine the theoretical principles developed by the research partners and their test results with our data collected over many years and our practical experience. This is the key to success," Günther Höggerl is convinced. "The development work has paid off – PC/ABS is no longer incinerated, but is given a new lease of life as an input material in high-quality applications. Step by step, we want to prove that it is also possible for other types of plastics – even if it should again be a long way to success. In any case, we are very confident about the future."