April 15, 2021
The EU Waste Shipment Regulation brought serious changes for the transport of plastic waste across national borders. At MGG Polymers considers the solution that is finally adopted practicable, despite some flaws.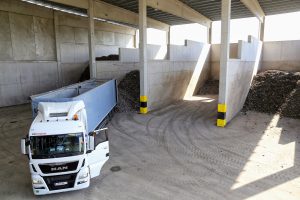 At the end of the year 2020, things had to move quickly: On December 22, 2020, the EU Shipment Regulation was amended according to binding requirements of the Basel Convention. The goal of the amendments: To strengthen the control of transboundary shipments of plastic waste and ensure its environmentally sound recycling. The new regulation came into force just 10 days later. For plastics recyclers like MGG Polymers, this meant a sigh of relief on the one hand, but on the other hand it was almost impossible to implement everything on time.
New waste code
In concrete terms, it was positive for the plastics recycling industry that E-Waste plastics did not suddenly have to be classified as hazardous waste. This would have made transport significantly more expensive and possibly even would have made processing impossible. Although no one could have wanted this, this possibility was definitely on the cards! The final text of the regulation now provides that within the EU, in addition to the "green listed" plastic waste (code EU3011), which must not contain more than 2% impurities, and the plastic waste that is considered hazardous (code AC300), there is another entry with the abbreviation EU48. This EU48 category now includes mixed plastics from waste electrical/electronic equipment. (For those who want to know exactly: Incidentally, other codes apply to the import and export of these fractions to and from countries outside the EU. These are B3011, Y48 and A3210; however, AC300 applies to shipments of hazardous plastic waste from/in OECD countries).
Notification required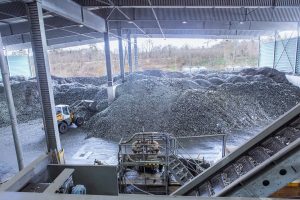 Transport of EU48 fractions, under which mixed plastics from WEEE are to be classified as from January 1st within the EU, is subject to the prior notification and consent procedure. This means that written consent must be sought and granted from all competent authorities at the point of shipment, transit countries and destination before the first shipment can be scheduled. Subsequently, three days prior to each waste shipment, notification must be made to all authorities. In addition, notification of shipment, arrival and processing to all competent authorities is mandatory at each of this stage of the supply-chain.  This consent is usually valid for one year. However, it can be extended up to three years for recovery facilities with pre-consent (in the EU).
Quick action is required – no bureaucracy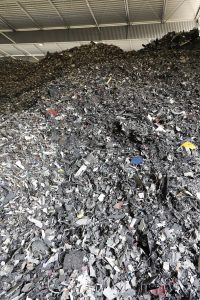 As the delegated EU act was only adopted shortly before Christmas, on December 22, plastics recycling companies had to act quickly. However, it now became apparent that bureaucracy was and is standing in the way of a quick solution. "We already asked for the necessary notifications in October, when this solution began to emerge," describes MGG Polymers Managing Director Chris Slijkhuis, "However, the responsible bodies replied to us at the time that, after all, the regulation was not yet in force and therefore no notifications were possible. Of course, after the decision was made, it was no longer possible to get all the necessary notifications in place before January 1st. Fortunately, we had already notifications in place with most of our suppliers before then, so it's not quite so bad." It is nevertheless annoying because after more than two months, only two of the six notifications applied for had been completed. Having had unpleasant experiences in the past with notification procedures lasting years, the Müller-Guttenbrunn Group is now hoping that the outstanding procedures will not drag on like this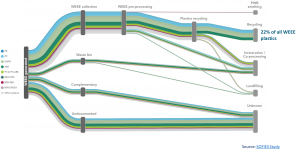 Despite this unpleasant side effect, Slijkhuis sees the new regulation on the cross-border transport of plastics as a good mechanism. Especially given the fact that only a staggering 22 percent of plastics from WEEE end-up being delivered to formal and compliant recycling facilities such as MGG Polymers. Slijkhuis hopes that these new rules will help increasing this rate in the coming years, so that more plastics from WEEE are recycled formally in accordance with the law. This is an urgent pre-requisite for developing the circular economy within Europe.