April 14, 2021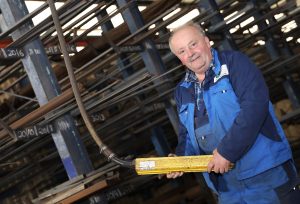 Anyone looking for Gerhard Gassner will find the 58-year-old in the slotted iron hall at MGG Metrec. For the now traditional MGG relay interview, the busy employee from Kollmitzberg briefly takes a break from work and talks about it. He talks about constant variety, dishonest customers and what he enjoys most in the iron hall.
Hello Mr. Gassner! Due to the lockdowns, it has often been unusually quiet in the iron hall in recent months. Normally, there must be a lot more going on, right?
GERHARD GASSNER: Yes, when up to six customers are bringing or picking up material at the same time, it gets really busy. Then I have to be particularly quick to avoid traffic jams on the scales. Besides, the customer is king – and, as we all know, you don't keep kings waiting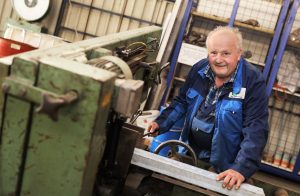 How would you describe your work here in the iron hall?
GASSNER: There are two of us here in the hall. One of us drives the forklift, the other looks after the customers and keeps things tidy. We always take turns – that ensures constant variety. But that's given anyway by the customers for whom we cut, weigh or measure the grooved iron. Then we have to record all the necessary data and send the customer to the office with the completed material sheet for invoicing. If customers have to wait a little because several customers are coming at once, then you need a smile to keep them happy. I think I manage that quite well.
How did you end up here at Müller-Guttenbrunn's iron hall in the first place?
GASSNER: Hannes Grissenberger, my brother-in-law and yard foreman here at MGG Metrec, informed me in 2007 that someone was being sought for the iron hall due to a retirement. At that time I was a truck driver – and I really enjoyed doing that. So I thought for a while whether I should change jobs. But Hannes said I should come and spend a day in the hall and have a look. I liked it right away and the decision was clear.
You have already mentioned that you drove a truck. However, you are a trained locksmith…
GASSNER: That's right. I completed my locksmith apprenticeship at the Mittermair company in Amstetten and worked there until 1992. After that, I moved to the Fehringer poultry farm in Aschbach as a factory mechanic. There, as a mechanic, I was also responsible for over 80 vehicles. I didn't just take care of the pickup or the brakes, but also liked to work on the transmission.
Where did your interest in vehicles come from?
GASSNER: Definitely through my father. He was also a truck driver, so I got to know the work in the workshop at a young age. I liked that even back then. As did the independent work and tinkering.
And how did you end up at the truck?
GASSNER: I was already allowed to drive the truck at the Fehringer poultry farm. After my father died, I took over his vehicle at the Zehetner building materials business in Amstetten. I was then on the road from Vienna to Hallein for over 20 years and saw a lot of construction sites, as I mainly supplied private home builders. 
Home builders are sure to come to you now when they need grooving irons. Who else comes?
GASSNER: Yes, everyone who needs utility irons comes to us. We have irons in a wide variety of shapes – from flat to angled – and also a wide variety of tubes. We also have customers who bring their scrap metal – for example, plumbers with stove and heating pipes. Farmers bring old plows and harrows, for example. Householders come by when they want to replace a metal door, but they also bring old tin cans and nails. Everything you can imagine is brought to us.
When does your work start in the morning?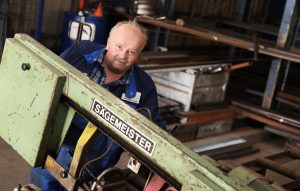 GASSNER: We start work here at 7 o'clock in the morning. Normally, we clean the saw or take care of the other machines. However, it does happen that the first customers are here at 7 o'clock. Until half past three in the afternoon we have the opportunity to buy or deliver material. After that, however, it really ends on time, because the day-end closing is done in the office Afterwards, of course, everything has to be cleaned up. In any case, there is work throughout the day – also because we have to help out quickly elsewhere from time to time. Sometimes I am on the road with a truck here at the company site to transport material to and from the shredder.
With so much going on, one thing or another is bound to have happened – isn't it?
GASSNER: Yes, once we even went to court! A customer manipulated the material ticket and wanted to scam himself out of some easy money. We went to court three times – the first two times the person in question didn't show up. It's a real shame that some people are like that. That's why you often have to watch out, because some people just want to park their old car batteries here or disguise iron as more valuable copper. In 43 years of work, however, I have already acquired a certain knowledge of human nature, so that I can quickly assess such customers. Such incidents naturally dampen my enjoyment a little, but most of the time I have a lot of fun in my work.
What do you enjoy most about this work?
GASSNER: What I enjoy most is dealing with customers – most of them are sociable and honest. I simply need to be able to exchange a few words with the customers. I would never be able to spend a whole year on the assembly line. In addition, it's really great that the management here at Müller-Guttenbrunn completely trusts in us. This means that we can do our work independently here in the iron hall. My credo is anyway: I work every day as if the company belonged to me. That way you make yourself responsible for what you do.
That's definitely a good attitude. At the end of this interview, why don't you tell us what Gerhard Gassner does as a private person? Are you as busy there as well?
GASSNER: I would say yes! At home we have a small farm with a few rabbits and chickens and my daughter's horse. I still like to tinker with the machines there – after all, there's always something to repair. I also used to do a lot of fishing on the Danube. Now, when necessary, I help my neighbor, who is also a farmer, or at the village renewal association, for example, when tractor work is needed. 
Then we wish you continued enthusiasm in your work – both at home and at MGG Metrec! In any case, thank you very much for the interesting interview.