Juni 17, 2020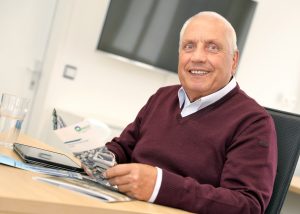 Dietrich Müller-Guttenbrunn steered the fortunes of the company for several decades as managing director with his brother Herbert. In a detailed interview, the passionate golfer talks about the beginnings – which are unthinkable today -, the changes and the current situation in the company.
 Mr. Müller-Guttenbrunn, the last few weeks and months have been dominated by the corona pandemic worldwide. How have you spent this time?
Dietrich Müller-Guttenbrunn: I was in Spain just before it happened and, when the corona crisis broke out in this country, I went into voluntary self-quarantine. I had enough to deal with, so I never developed camp fever or anything like that. I always find something to do!
You also had enough to do in all the years in which you helped build up and shape the Müller-Guttenbrunn Group. In addition, you are still active on the advisory board. How often do you inform yourself about what is happening in the company today?
Dietrich Müller-Guttenbrunn: I am in the company every week and keep myself constantly informed. The great thing is that we have short lines of communication and everything works well. I also discuss a lot with my brother Herbert. I am also pleased that the company has mastered the Corona crisis quite well so far.
You joined the company a little later than your brother, in 1973…
Müller-Guttenbrunn: Yes, formally I joined my father's scrap metal trading company in 1973, where my brother was already working. At that time, I was still running a café-restaurant with my mother in Waidhofen/Ybbs. So, I was mainly active in the catering trade for two years before I really switched to the scrap trade in 1975. But of course, I was already helped out in the company during the holiday season when I was young. I really enjoyed that.
You really experienced the company's start-up years at first hand?
Müller-Guttenbrunn: Yes, of course. As children, we practically grew up with the company. I can still remember: We had two scrap yards back then. One was directly opposite the open-air swimking pool of Waidhofen. That's where I saw my friends happily playing around during my vacation work. In those moments I looked at my situation with one laughing and one crying eye – but understand me well I didn't miss out anything. It was a wonderful time of youth. We lived in the castle above the bath – there we had a wonderful big playground.
Wasn't this playground quite dangerous?
Müller-Guttenbrunn: Yes, today that would be unimaginable. You have to know that there were many war relics to be found in the castle park at that time. We didn't even realize how dangerous it actually was. Today, you would never allow children to do that, but back then it was omnipresent, and that's probably why we were simply more tougher guys in these days.
Were there any accidents?
Müller-Guttenbrunn: Yes, unfortunately we have experienced serious accidents there. For example, once an employee was blinded by a grenade explosion. We must call ourselves lucky that such dangerous things are no longer present at the scrap yard. After my start in the company, I was often supervisor on our yard and of course had to be careful. But I liked it much better than the cramped, small office where my father and many others smoked. I preferred the fresh air at the junkyard.
What were your responsibilities at the scrap yard in Waidhofen?
Müller-Guttenbrunn: I was often in charge of the yard and liked to drive the excavator myself. If the machines had small defects, I repaired them. After all, I did an apprenticeship as an electrical engineer and as an industrial clerk in the largest electrical company at that time in Waidhofen. Therefore, if there were electrical problems, I could usually fix them myself – and with the rough operation there was always something to fix! Since we employed many semi-skilled workers at that time, often something went wrong.
In 1976 the company finally moved to Amstetten. What has changed for you?
Müller-Guttenbrunn: A lot has changed! I was practically the vanguard in 1976. There was no regular operation at that time. It was rather the case that a lot of material was delivered and stored here while the facilities and the office were being built. The improvised office was just a caravan for the first six months. I had to take care of the bureaucratic work myself. On top of that, some of the suppliers couldn't find us because they were used to driving to Waidhofen. In addition, half a year before we moved to Amstetten, 500 meters from our current location, we had an interim storage facility, which we then left open again. That caused a lot of confusion, because everything was new and different.
In your private life, some things will have become new and different for you too…
Müller-Guttenbrunn: With the move, my workplace was suddenly only accessible by car. It quickly became clear to me that I would have to move to Amstetten with my family at some point. It turned out relatively well that we found a semi-detached house together with my parents and moved in 1977.
What has changed from the activities for you?
Müller-Guttenbrunn: At first only the machines were completely different. I was still to be found at the scrap yard, operating the machines, driving the excavator, working with the large shears and occasionally driving the truck. But that was rather the exception. On Saturday morning I took care of the ferrous and utility ferrous sales. And then I moved more and more to the purchasing department and looked after major customers. Consequently, I was on the road a lot.
How did the cooperation in the management with your brother work?
Müller-Guttenbrunn: Basically, we were active in separate areas. This meant that there were hardly any points of friction. Our father also taught us that you learn the most when you fall on your face, and he often gave us a free hand in making decisions.  There was never a bad word when a business did not work out so well. The important thing was that we learned our lessons from this and that it never happened a second time. I never interfered, when it was not absolutely necessary. After all, nobody makes mistakes on purpose.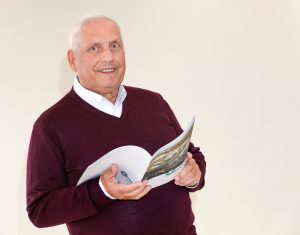 Your brother Herbert said in an interview that you often had his back – especially during the Müller-Guttenbrunn Group's expansion abroad. How did you experience that?
Müller-Guttenbrunn: Herbert was definitely the visionary in the company, yet we decided everything unanimously. He always went "out to the front" – whether abroad or in the Chamber of Commerce, where he was working. I must honestly admit that I was happy about that. I did not want to be on the road all the time. After all, he did unwind a few hundred thousand kilometres in his car. In addition, there was the Iron Curtain. You couldn't be sure that you'd come back from the East safely.
I was glad if I didn't have to drive there. It was enough for me that my car was stolen in Bratislava once within five minutes. However, I have to admit that we also met wonderful people there and made great friends. But we also met people where it is better not to touch. That's why we decided to stay away from business in Russia – although we would have been very tempted. However, we have seen German colleagues who have paid tuition fees there.
If you learn the hard way, you should be able to celebrate success in the end. What was your greatest personal success in all these years?
Müller-Guttenbrunn: For me as Managing Director, the fact that we didn't have to lay off any employees in the period after the crisis of 2008 was probably the greatest success. Yet we really did not have many orders at that time. But it was important to me that we continue to employ our staff. Our employees are our most important capital. I suppose they know that, and they reward us, which is why we have hardly any fluctuation.
Fortunately, the crisis of 2008 has been overcome. How do you see the current situation of the Müller-Guttenbrunn Group?
Müller-Guttenbrunn: In my view, it is extremely positive. With the rejuvenated team, we are well positioned for the future. In addition, there are always things happening: We have reduced some areas in which we played a pioneering role, but we are also treading completely new paths again. 
With the new paths you are probably referring above all to the development from a former scrap dealer to an e-waste recycler. As a result, the Müller-Guttenbrunn Group now also recycles plastics. Where do you think the journey will lead?
Müller-Guttenbrunn: That is the case. The plastics division is very important. In many cases, plastics are now demonized, but it is no longer possible to imagine life without them. In medicine, for example. That's why recycling is very important – and the necessary separation morale. I do get around a bit in the world and my former profession means that I go through life with slightly different eyes. In many parts of the world it is madness how waste is handled. We humans should not be surprised about the extinction of fish and species. But in many cases it is a question of education – it is up to each individual to do the right thing.
For you it was the right thing to retire in 2010. How easy was it for you to say goodbye?
Müller-Guttenbrunn: I definitely didn't have a pension shock. With my retirement I took over the presidency of the Amstetten-Ferschnitz Golf Club. This task is like a year-round job – I'm constantly on the road for the club. But it gives me great pleasure – after all, I have been playing golf since 1984. My wife supports me as Vice President, so we have a lot to do.
How will you spend the rest of your retirement?
Müller-Guttenbrunn: After I recently had to undergo an operation, I'm now enjoying my time much more than before. I have been happily married to my wife Anna for 22 years. Together we have eight children who bring us a lot of joy. In addition there are already eight grandchildren – there is always something going on. My wife and I also like to travel. Since the operation, my motto in life is: Do it now! Many people always say, this and that I will do later, next year or so – but you should especially enjoy your life in the here and now.