April 28, 2021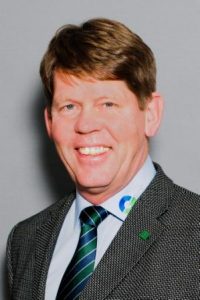 MGG Polymers Managing Director Chris Slijkhuis is going into (un)retirement. The Viennese cosmopolitan from the Netherlands looks back on an exciting time – not only in the last two years, during which he gave the plastics recycling company a completely new image. An attempt to sketch a portrait of the outgoing MGG Polymers managing director.
Anyone who meets Chris Slijkhuis immediately notices his infectiously positive manner, which is impossible to resist. This is complemented by his infectious laugh, which immediately reinforces this impression. It is precisely this positive attitude that the native Dutchman has tried to transfer to MGG Polymers over the past two years as Managing Director, breaking completely new ground in the process. Yet he had actually already retired in 2019 and was hundreds of kilometers away from the plastics recycling plant in Kematen – but let's take it one step at a time!
From Boskoop out into the world
As the son of a nurseryman in Boskoop, Holland, his career path was clearly marked out after his horticultural studies: He was to take over his father's Garden Center. But things turned out completely differently – possibly also because he got to know the wide world at a young age through his father's many journeys. So, after completing his military service, Slijkhuis – which translates as "Mudhouse" – was drawn to a greenhouse company in the north of the Netherlands, where he worked on greenhouse projects in countries in the Middle East and southern Europe. In Portugal, he met a group of young entrepreneurs and was invited to help build a factory for apple juice concentrate, and three years in Portugal followed.
The internationality followed Chris Slijkhuis – or was it the other way round? – also in his private life: he met his wife Els, a Belgian, during a holiday trip to Davos in 1980. After their time in Portugal, the couple returned to the Netherlands and moved to Belgium shortly afterwards. Professionally, after an intermezzo at a mechanical engineering company, he worked for a flat glass manufacturer in Belgium and for a Norwegian packaging manufacturer – and also studied for an MBA at the University of Antwerp.
The road to Vienna and Silicon Valley
What followed was an engagement that would change the lives of Chris Slijkhuis and his family forever. At the pallet pooling company Chep, he not only built up a large international network by participating in congresses and trade associations, but he also moved to Vienna with his wife and two children to establish the Chep company in Austria, and later in Switzerland and the Czech Republic. This is where he stayed when he made another career change and joined Flextronics (now Flex), a typical Silicon Valley company with its European headquarter in Vienna.
At this globally active contract manufacturer and manufacturing service provider for many well-known electronic OEM's, the Viennese by choice, took care of supply chain management – for example, for the first generation of Microsoft's Xbox. As a result, Slijkhuis was constantly on the move – or rather in the air: trips within Europe, to China or to the headquarters in the USA were constantly on the agenda. One day he met Mike Biddle – this American pioneering spirit was to found today's MGG Polymers plant in Kematen/Ybbs together with Christian Müller-Guttenbrunn a short time later.
A new start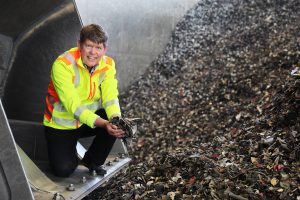 This joint venture was also a new starting point for Chris Slijkhuis and he joined Mike Biddle's team. The year was 2005, plastics recycling was still in its infancy and many new processes had to be set in motion – from sourcing the material to be recycled to selling the finished products. In addition to the plant in Kematen, a similar project was also started in China. For all these interlocks and processes, Slijkhuis, with his countless experiences in a wide variety of sectors across national borders, was the ideal man, especially to get the complex supply chain processes going.
The financial crisis of 2008 exacerbated the teething problems of the plans for plastics recycling, but the plant in Kematen stayed on course – thanks to the foresight in the Müller-Guttenbrunn Group. "It was only because of the support and patience of Müller-Guttenbrunn that the crisis could be overcome in this way," Chris Slijkhuis is certain in retrospect. "I admire how the company does not act in the short term, but thinks and acts in terms of generations over decades."
In search of a job
After the slump due to the crisis, things started to look up again – and the owners of Müller-Guttenbrunn's joint venture partner, where Chris Slijkhuis was employed at the time, prepared for an IPO due to the positive development – which, however, was never to come. A new management was installed, which immediately took short-term steps to be able to present the best possible figures at the planned IPO.
In the process, the company got rid of many of its former pioneers, for whom it no longer saw a need. This also affected Slijkhuis, who at the age of 58 was suddenly faced with the challenge of looking for a new place to work. At first, I thought: "At almost 60, it will be difficult to find a job. You're no longer in demand. But I soon had three offers – the only catch was that they were all abroad. But I wanted to stay in Vienna and not be on the road all the time. Until then, it was unfortunately the case that I was often only at home on weekends," Slijkhuis recalls. Müller-Guttenbrunn recognised the unique opportunity and secured the services of the multilingual manager, who speaks fluent English, Dutch, German and French and also understands a little Portuguese.
A little culture shock
A small culture shock followed. Slijkhuis, who had previously managed four companies and initiated many things at Müller-Guttenbrunn's joint venture partner, now got to know other work processes and perspectives in the family-run company in Amstetten – keyword: thinking across generations. However, the cosmopolitan quickly digested the shock and settled in well in the tranquil Mostviertel. Slijkhuis took care of quality management and the complex matter of notifications required for the transport of material to be recycled. However, he also worked in the areas of public relations and e-waste – which would eventually bring him back to MGG Polymers.
However, someone like Chris Slijkhuis has to break out of the idyllic tranquillity of the Mostviertel from time to time. For example, the now Viennese with a Dutch accent was repeatedly in Brussels on behalf of EERA, the European Association of Electronics Recyclers, or at the corresponding committees of the United Nations. He has also travelled to countries such as Ghana, El Salvador and Kazakhstan on behalf of the UN University to lecture on E-Waste and plastics recycling.
In 2019, however, at the age of 65, it should be over – or at least a little quieter. Slijkhuis gave up agendas and moved to Belgium for a year to do some lobbying on flame retardants and waste shipments. But the quiet in the background was not to last long!
Back to the front row
What had happened? Müller-Guttenbrunn's joint venture partner at the plastics recycling plant in Kematen had suffered shipwreck and was sold. The Müller-Guttenbrunn Group took over the company in Kematen completely and was forced to go new ways in 2019. In the meantime, the plant was operating under the name MGG Polymers and now they asked the short-term Belgian Chris Slijkhuis if he could reposition the company. He didn't hesitate for a second: "I knew immediately that I had to do it!"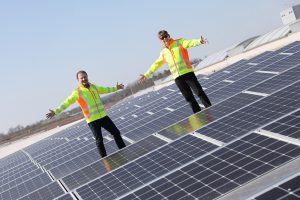 Big tasks awaited Slijkhuis and Günther Höggerl, who took over the management of MGG Polymers with him. The duo not only created new momentum in the company, but also completely repositioned the company in the market. Here Slijkhuis benefited from the fact that he knows both the view of the recycling company and that of producers in the electronics sector: "At MGG Polymers we don't just produce plastics. We produce green plastics! In this way, the waste material from old electrical and electronic equipment is turned into new, green raw material that can be used in new electrical and electronic equipment. However, you have to talk to the producers wanting to become greener, in their language."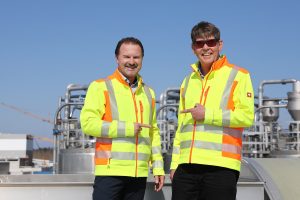 It works…
To be able to devote himself to his work in the best possible way, Slijkhuis even moved into an apartment in the Mostviertel. His commitment paid off: the repositioning is working excellently despite all the side noises of the Corona crisis, and the team is better positioned than ever before. Knowing that MGG Polymers has a positive path ahead of it, Chris Slijkhuis is now actually looking forward to retiring on 30 April and handing over the management completely to Günther Höggerl.
Chris Slijkhuis and retirement – really?! The neologism (un)-retirement was definitely invented for a person like Chris Slijkhuis. No question, in the future he hopes to find more time for his family and friends as well as the countless hobbies such as playing the piano, singing, kayaking and other water sports. However, he can't and doesn't want to retire completely from recycling either. "I'm a bit like Robin Hood in that respect," he once said in a personal conversation that revolved around the new simplified EU regulations on the international transport of (e-waste). "The European Circular Economy can only develop if the international rules are made so that waste such as plastics from e-waste can be easily transported to recyclers that strictly follow legal requirements. Today, it can take years before companies like MGG Polymers can import raw materials – this circumstance is comparable to the wedged container ship in the Suez Canal. A circular economy, where a product is recycled at the end of its life, cannot develop in this way. But it should work – if only for future generations. It's worth fighting for!" A citizen of the world thinks beyond national borders.
So, it will be interesting to see what chapters Chris Slijkhuis will add to his life story. The son of a nurseryman from Boskoop, who once set out to seek his fortune in the world, has definitely made it a bit better with his commitment to the recycling industry.
The Müller-Guttenbrunn Group says thank you for this and wishes him continued success and good health on his future path in life.