April 13, 2021
Armin Blutsch is called out when there's a fire: whether it's IT problems at the Müller-Guttenbrunn Group or when there's actually "fire on the roof". He was honored for his commitment to the volunteer fire department at the Hofburg in early March.
Armin Blutsch has been part of the Müller-Guttenbrunn Group for almost 30 years. The IT specialist takes care of everything from small problems such as a malfunctioning monitor to managing large projects. However, he is generally quick on the spot when there is a fire somewhere – in the truest sense of the word!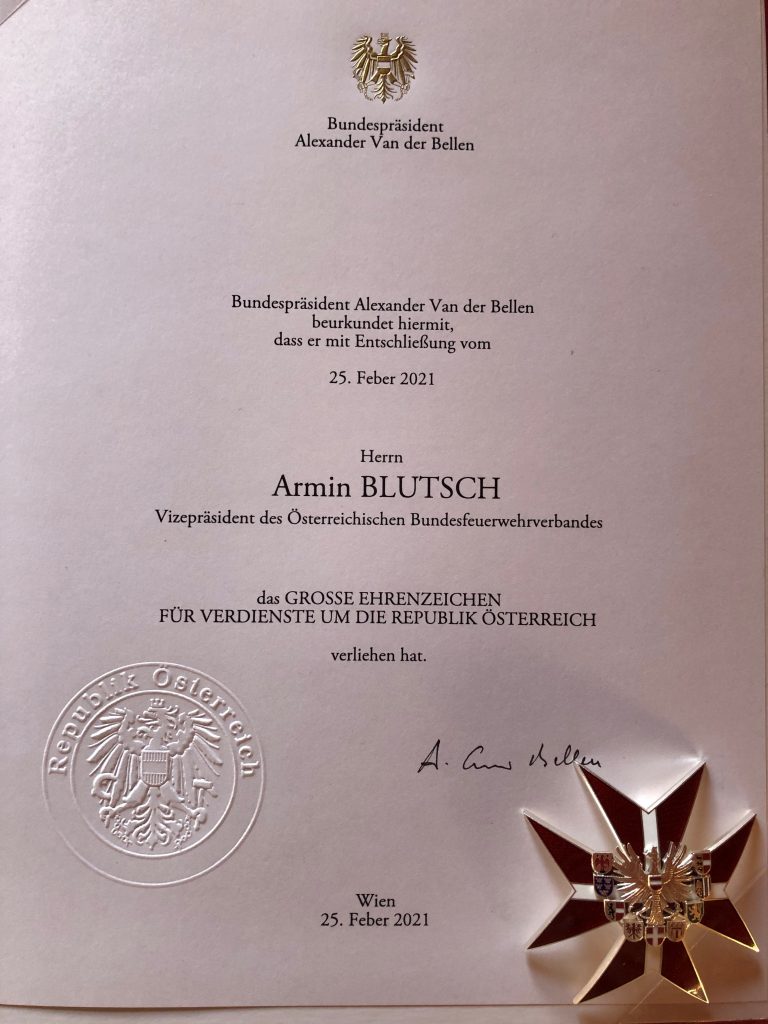 It is hard to imagine the Amstetten Volunteer Fire Department without Armin Blutsch – after all, he has already been active there for half a century. Half of these 50 years he was even commander. In addition he is also active as vice-president in the federal fire-brigade federation for 340,000 firefighters in Austria. For his great commitment, Blutsch was awarded the Grand Decoration of Honor for Services to the Republic of Austria by Federal President Alexander van der Bellen on March 8. The MGG team congratulates very warmly on this high honor!
Heroes and their deeds
During the small ceremony in the legendary Maria Theresien Room in the Vienna Hofburg, the Federal President spoke of the firefighters being true heroes. In the case of Armin Blutsch, the heroic deeds can be poured into a concrete number of over 5,400 missions and exercises. Among them was the major fire at the Mondi-Neusiedler paper mill in Hausmening in 2001, which can also be expressed in figures: At that time, 8,500 tons of paper burned, so it took two weeks to extinguish the fire using 27 million liters of water.
A sensitive topic
Of course, the subject of fire risk is also a constantly present topic in the Müller-Guttenbrunn Group. Armin Blutsch is well aware of this: "Due to the increased fire risk in some areas, it was and still is a sensitive topic. For the company management, fire protection has been a very high priority for years, which can be seen in the investments already made." The expertise of the experienced firefighter is always a great help in enabling optimum fire protection at the MGG plants. On the other hand, Blutsch appreciates the good compatibility between his job and his commitment to the volunteer fire department: "My bosses have always shown great understanding for the fire department. Nevertheless, the top priority is, of course, always: IT has to run!"
Although the thoroughbred firefighter resigned his command at FF Amstetten at the beginning of 2021, he is not yet thinking about quitting: "As I am still fire department vice president until the beginning of June 2022, there is still a lot to do. However, the number of fire department appointments will definitely decrease. So now there is more time for my other hobbies."