September 25, 2020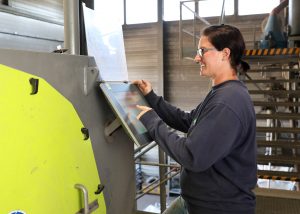 For two years now, Petra Reitbauer has been making sure that the plastics sorting plant at MGG Metran in Kematen is running properly. To do so, she also clamps herself behind the wheel of one of the large blue-green wheel loaders. For the relay interview, in which someone from the Müller-Guttenbrunn Group is always asked to step in front of the curtain to introduce their workplace, the 33-year-old has decided to take a break from work for once.
Ms Reitbauer, you have been working at MGG Metran for two years. As a plant operator and wheel loader driver, you have not exactly chosen typical female professions. How did this come about?
PETRA REITBAUER: Yes, currently I am the only woman here at the Metran production site. I originally was trained for a job in the retail business. As this is a low paying industry I decided in 2008 that I wanted to change. I'm flexible, I simply like to work and this is how I ended up at MGG Polymers back then.
The sister company is only a few hundred metres away. What did you do there?
REITBAUER: I first worked in the quality assurance laboratory for eight years. That was very exciting, but thenI decided to work in production.
And what prompted you to move to MGG Metran after 10 years?
REITBAUER: You have to like working in shifts. After having worked at MGG Polymers production for some time, I decided that I did not want to continue doing night shifts anymore. I also wanted to be able to plan my time-off a little better and of course, doing something new also appealed to me. So I got the chance to switch to MGG Metran.
Here you are primarily responsible for the plastics sorting plant. Could you explain, how the system works to anyone who doesn't know it?
REITBAUER: The KUSO, as it is called in our company, is fed with shredded material – the main part consisting of plastics in all shapes, colours and sizes. The system separates out impurities and recognizes what type of plastic the individual parts are and then separates them according to the type of plastics. Finally, the plastics are filled into big bags, which are then delivered to MGG Polymers.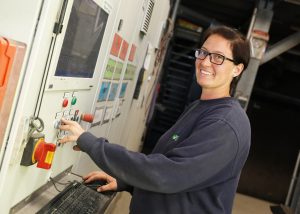 So what are your concrete activities at the KUSO?
REITBAUER: First of all, the system has to be set up accordingly so that it separates exactly what it is supposed to separate. To do this, the system must be constantly monitored to ensure that, for example, the extraction or separation screens are functioning properly. Furthermore, I have to repeatedly take samples of our finished production and bring them to the quality assurance department for analysis. My tasks also include stopping the system from time to time to replace parts – such as the knives in the cutting mill.

You are not only active at the KUSO, but also on the wheel loaders from time to time…
REITBAUER: Indeed, I step in as a substitute when colleagues are on holiday or on sick leave. During the holiday season, it often happens that I sit on one of the high-powered vehicles and bring material to our sorting lines or drive the separated materials to the respective boxes.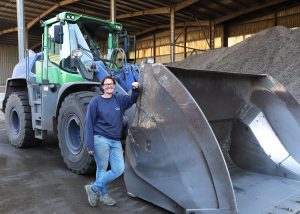 What prompted you to sit in such a driver's cab?
REITBAUER: I was asked if I was interested in driving the wheel loaders. I remember saying at the time:"I have respect, but I can give it a try!" In the meantime, it really like and enjoy doing it.
What do you need to pay attention to in this job?
REITBAUER: It sounds banal, but the most important thing is to have the right material on the shovel or to put the material in the right pile. In stressful moments it is often not so easy to keep track of things. After all, there are a lot of different fractions to be found on our site.
What is it like to drive these large vehicles if you don't do it every day?
REITBAUER: It's a bit like driving a car. You don't forget that so quickly – I can find every lever right away. But it's true that if I haven't driven for some time, I have to adjust again. So I'm often a bit more careful at the beginning before I really step on the gaspedal again.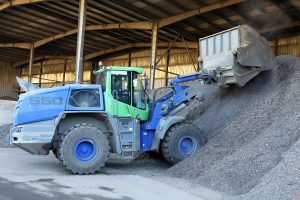 There are quite a few loaders and other vehicles driving around the Metran area. Don't you get in the way?
REITBAUER: All in all, we have four loaders in use. But each one has its own area on site so that everything runs smoothly. We are also connected to each other by radio – so we can help each other if necessary. Communication is very important and works really well.

Does this variety at work also make it attractive for you?
REITBAUER: Of course it's better if you don't have to do monotonous work day in, day out. For me it is always particularly exciting when the KUSO is just standing still because there is no material to separate. Then all kinds of different jobs can be waiting for me: Today, for example, I first worked on the sorting conveyor and then I helped in quality assurance. In any case, there is always enough to do.
With so many different jobs, your free time will hopefully provide a good balance …
REITBAUER: Compensation in the sense of resting rather not, as I have four dogs that keep me on my toes. I do dog sports with them such as trail work. That's why I spend a lot of time with Sindy, Kiwi, Curly and Cloe in nature and on the dog training area. As you can see: I definitely don't have a lack of fresh air!
Then we wish you continued enjoyment with your four-legged friends and also the varied work at MGG Metran!