August 17, 2021
MGG Mü-Gu Kft., the Hungarian subsidiary of the Müller-Guttenbrunn Group, invested heavily and is currently expanding its capacities on the outskirts of Budapest. Work on the new premises should be completed by the end of the year.
Almost 30 years ago, the Müller-Guttenbrunn Group founded the subsidiary MGG Mü-Gu Kft.  in Hungary. Due to constant growth, the plant on the outskirts of Budapest has constantly reached its capacity limits in recent years. "Efficiency is an important keyword in the company. We will therefore continue to optimize and modernize our processes," announced Managing Director Nándor Hoffmann. An essential point to be able to work more efficiently is a plant expansion, which is currently being implemented.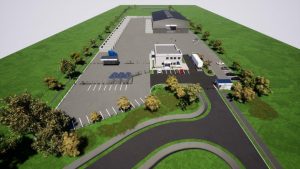 36,000 m² area with many possibilities
In the past two years, the company has completed the purchase of a 36,000 m² site. "The new area is located about 10 minutes south of the existing site," reveals Nándor Hoffmann. About half of the site will be paved over for the time being and will be home to MGG Mü-Gu Kft.'s metalworking operations in the future. Work on the new premises is in full swing and the first construction phase should be completed by the beginning of autumn.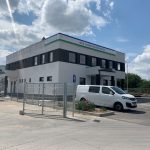 An office and social building for 35 employees will be built on the new premises. In addition, a 2,300 m² hall will provide plenty of space for the material to be processed. There will be sufficient parking spaces and a filling station for the company's own fleet of trucks, which previously had to be parked in a rented space. "We will also build two 60-ton scales for the trucks and four smaller scales for receiving goods," Hoffmann reveals.
New investments to follow
In order to also be able to process the delivered material efficiently, new innovative technology will also be installed by the end of the year. Of course, important environmental concerns have also been taken into account in the expansion of the plant. Thus, in addition to a rainwater basin that holds 2,000 m³ of water, a modern sewer system including oil separators will be installed to comply with the strictest regulations. MGG Mü-Gu Kft. managing director Hoffmann is satisfied in any case: "With the new facilities, we will finally be able to exploit a lot of efficiency potential. In addition, we still have enough options at the new site should we reach our capacity limits again."
Incidentally, in Amstetten the Müller-Guttenbrunn Group has also purchased an adjacent plot of land in order to be prepared for investments in the future.