April 02, 2015
The large shredder forms the heart of the metal recycling process of Müller-Guttenbrunn. After a few decades, the car shredder required a complete revision and refurbishment. Among other things, the transport conveyor belt with which the raw waste is transported to the shredder, needed to be replaced by a conveyor belt of the latest generation. With this new conveyor some 200,000 tons of material is transported into the shredder, every year.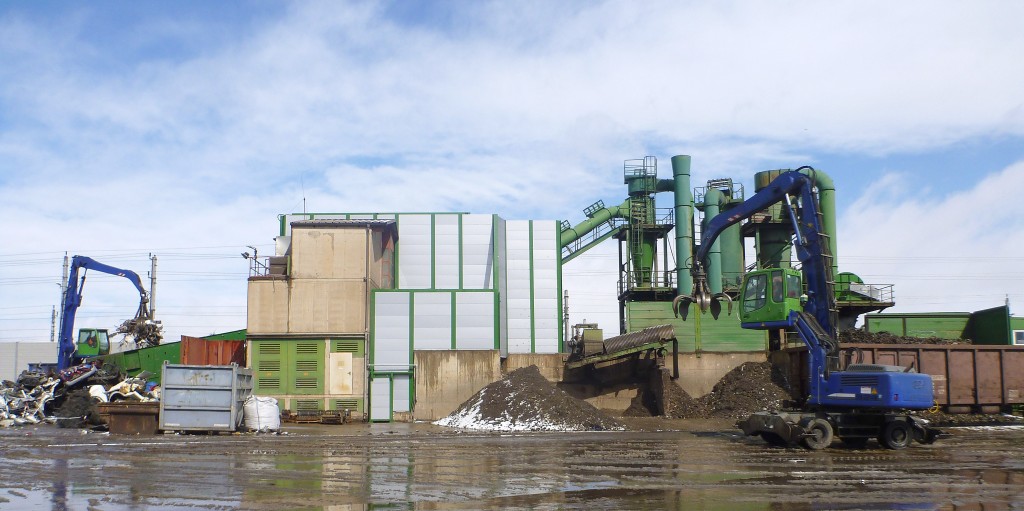 The drive unit of the shredder – a strong electric motor – is a core element of a shredder, which drives a 37 tons heavy axis with hammers, which rotation energy shred the cars after the hammer-and-anvil principle. The electric drive unit was replaced by a brand new and efficient 1300 horse power unit.
New "coat" for shredding plant
The most important and highly visible element of the innovation is certainly the newly created housing and sound insulating enclosure of the shredder. The shredder has thus received, as it were, a new "coat".  This case causes the large shredder to work a lot quieter in the future – a very large reduction of the noise could indeed be achieved.
Managing Director Mag. Christian Müller-Guttenbrunn is very pleased with this innovation:
"… we are showing once more that we care about the ongoing renovations of our facilities at heart.  Increasing the efficiency of our recycling systems is equally important as the consideration for the environment and our neighbors. With the modernization of our car-shredder we have killed two birds with one stone: we have become more efficient and quieter ".
About the functioning of the shredder:
Müller-Guttenbrunn car shredder is primarily used for ferrous metal scrap recycling, particularly for end-of-life vehicles.   The first step in the car recycling is the de-pollution, which is a manual process which includes the removal of all the fluids such as fuel, lubricants, cooling liquids as well as the dismantling of precious metal-bearing parts such as catalytic converters. The tires and wheels are removed before the shredding process as well as fuel tank, the latter to avoid deflagrations in the shredder.
Thereafter, the remaining car body is placed on the new conveyor belt which transports it into the shredder.  The shredder is fed with 200,000 tons of ferrous material, per annum.  The raw scrap is shredded to into small, fist-sized pieces.  According to their mass, these parts are ejected differently.  The first material separation is performed immediately after the shredding process by sorting out the ferrous metal pieces by electromagnets.  These separated ferrous metals are delivered to steel plants where the ferrous scrap is melted into new valuable steel material.
The remaining fractions are processed by the Müller-Guttenbrunn companies Metran and MBA Polymers in Kematen/Ybbs, which convert the shredder residues into various non-ferrous metal concentrates and end-of-waste plastic pellets.
Source:
Block diagram of a shredder
(© de.wikipedia.org/wiki/Schredder)