Oktober 14, 2020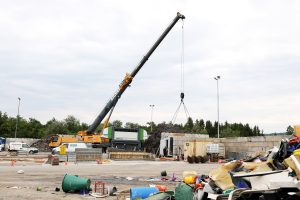 MGG Metran invested 900,000 euros to install an energy-efficient shredder. The new machine offers many advantages and also new possibilities.
Four years ago, the Müller-Guttenbrunn Group began collecting and recycling hard plastic products. Code name: Bobby Car project. Even then, shredding the products – such as children's toys, buckets, garden furniture – was a challenge. The plastic-metal composites could not be shredded efficiently enough with the existing shredder plants, which are designed for processing products rich in metal. With continuously gained experience, the shredders have been adapted again and again in the course of time.
More and more material
Finally, a mobile and flexible shredder was used that was able to shred a wide variety of waste. However, as the volumes collected in the Bobby Car project are fortunately continuing to increase, a new stationary shredder was installed at the MGG Metran plant over the summer. "The trend in hard plastic collection is fortunately moving towards 2,000 tonnes per year. Until now, intermediate steps were always necessary to separate the plastic parts from iron and metals and to remove impurities. That often meant a lot of additional trips with the wheel loaders across the site." explains MGG Metran Managing Director Gunther Panowitz.
The new shredder
After checking all possibilities, the choice for the new shredder was made in favour of the XR3000C from the Salzburg manufacturer Untha. Compared to the mobile shredder used so far, it offers a number of advantages such as a slightly higher cutting performance or finer shredding. In addition, the new shredder was also equipped with separators for ferrous and non-ferrous parts as well as impurities. "This enables us to prepare the material from the hard plastic collection in an ideal way to further separate it in our plastics sorting plant," says a delighted Gunther Panowitz.
The modern "Eco Power Drive" drive concept reduces energy consumption enormously. Since no belts, hydraulic pumps or shaft stubs are required, maintenance costs are also reduced. Nevertheless, the two 180 HP motors in the shredder provide the required cutting performance, as Panowitz confirms: "There are more and more composite materials in the collected fractions that are difficult to process, such as sandwich panels or insulation panels. To shred these materials well, we need a shredder with an appropriate cutting capacity like the XR3000C".
Versatile in use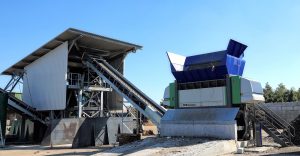 Like its predecessor, the new shredder can be used in many ways – it can also be used to separate copper compounds (e.g. copper cables). Another possible use for the XR3000C at MGG Metran is the processing of aluminium cans. Not only iron and other metals are separated from aluminium, but another strength of the new machine becomes apparent: the variously selectable cutting geometry. Gunther Panowitz explains: "By using different perforated sieves, we are very flexible and can produce different sizes. We now notice that thanks to the new cutting geometry the parts can be pressed better".
After the first few weeks, MGG Metran is very positive about the 900,000 Euro investment. Managing Director Gunther Panowitz says: "The shredder works exactly as we imagined. However, I am sure that we will also gain new experience with this machine in order to further improve our processes."