August 11, 2021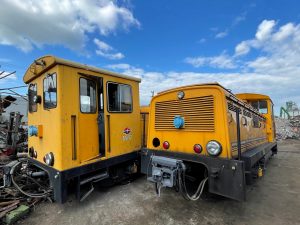 Time and again, special machines are dismantled at MGG Metrec so that the raw materials used can be used for new products. Recently, two diesel locomotives of Wiener Linien started their last journey.
They had traveled more than 100,000 kilometers on the Vienna subway tracks. However, the last kilometers – from Vienna to the Mostviertel region – were covered by the two yellow diesel locomotives with the numbers 6912 and 6913 on flatbed trailers. Their wheels had long since been removed at this point – their final dismantling followed a short time later. The dismantled wheels were then delivered at a later date – as is usual in such cases.
Transport and towing service on rails
The two 24-ton trucks were put into service in 1977 and 1984. Over all these years, they were used as towing vehicles in the Vienna subway network. So when transportation of rails, power lines and other materials was on the agenda, the two diesel locomotives did the heavy lifting. They were also used when a subway train set broke down. The locomotives were also used for shunting work in the stations. For the sake of the environment, the two diesel vehicles have now been decommissioned and replaced by electrically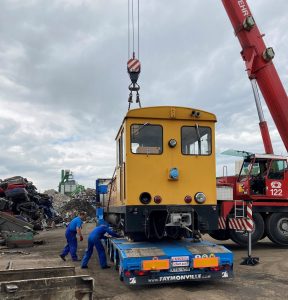 powered battery locomotives.
The right solutions for special orders
With this step, it was clear: 6912 and 6913 would be scrapped. No easy task with two 24-ton vehicles – but the MGG Metrec team in Amstetten has a lot of experience with such dismantling work. In addition to heavy rail equipment, Amstetten also scraps trucks, large trailers or industrial equipment (e.g. tanks) and prepares them for recycling. "We find the right solution for each of these special orders. This time we had to use a fire department crane and set the first crushing steps with the excavator," reports production manager Hannes Grissenberger. "Only then could our large scrap shears get to work and do the rest." In the end, all that remained of the two locomotives was a lot of metal, which could then be melted down and used for new products.