Oktober 13, 2020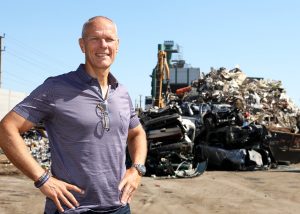 Danny Steriti has been managing the fortunes of Müller-Guttenbrunn Handel GmbH (MGG Trade) in Switzerland since 2001 – but in the meantime he is also well versed in troubleshooting. In an in-depth interview, the 56-year-old from the Rhein valley reveals, among other things, why he swapped his job as a window dresser for one with the Müller-Guttenbrunn Group. He also describes exciting adventures, his slightly different view of things and what opportunities he sees in the crisis. 
Mr Steriti, you have been working at Müller-Guttenbrunn for almost 30 years now. How did you come to work for us in the first place?
DANNY STERITI: Yes, I joined the Müller-Guttenbrunn Group exactly on 1 August 1992. But I didn't fit into the industry at all, because I'm a trained decorator – in other words, a window dresser. However, the job pays extremely badly, so I trained in sales and personnel management in the department shop group where I did my apprenticeship. As a result, I became a team leader at the age of 22 and rose to the position of deputy managing director of a company with 120 people. At the age of 24 I was elected Vice-President of the Jelmoli Group Employee Council and was thus the mouthpiece for 4,200 employees throughout Switzerland vis-à-vis the Executive Committee. Every month we met with the Executive Committee and spent one or two days discussing employee concerns. Over the years, I could no longer identify with Group personnel policy, so I was determined to change. It must also be said that I am multilingual – if only because my father came from southern Italy and my mother from Carinthia and I grew up in Switzerland. Therefore I wanted to orientate myself professionally so that I could apply these skills. By chance I was asked by an employee of Metfer in Liechtenstein – one of the companies of the Müller-Guttenbrunn Group – whether I would like to take over her job. 
And that suited you right away?
STERITI: For me it was – but I was overqualified for the Metfer managing director at the time. But I really wanted this job and fortunately we came to an agreement. However, the start was anything but ideal, because only a few days after I started working for Metfer I tore my Achilles tendon while playing football. I was totally uncomfortable calling my boss and telling him that I was in hospital. I wanted to get back to work as quickly as possible – which I did. That was anything but good for my foot, but I simply had a bad conscience. Today, it would be much easier with a laptop and smartphone and you could work from home or the hospital. Back then, with all the paperwork and bulky writing utensils, that was unthinkable!
What did you do there in the beginning?
STERITI: In the beginning I was responsible for the office, then I got into the field and started buying scrap metal. At that time we were still loading ships with iron scrap in Africa and unloading them in Spain or Italy. We even had a small port in Szczecin in Poland. That was an exciting time – but at some point it was no longer profitable to bring iron scrap from North Africa via Spain to Europe. So the Müller-Guttenbrunn Group also developed more and more into the East and founded new branches.
You played a decisive role in the establishment of some of these new branches…
STERITI: That's right. In 1995 we started exporting the first batches of scrap from Romania. On the advice of the former managing director, the first branch was established in Timisoara in 2000. After I took over the management at Metfer, the Romanian business was further expanded. In 2004 we founded a subsidiary of the same name in Arad. Companies were then acquired in a 2-year cycle. However, not everything worked smoothly with the Romanian partners and had to be reorganised. In cooperation with Michael Kimmeswenger, I was allowed to take over the troubleshooting and clean up as best I could. That way I got away more and more from the actual trade and always take care of things that should be tidied up. This is not always easy, it's mostly mismanagement from earlier times! Of course this also means that I am often on the road – before the Corona pandemic I spent up to 80 percent of my working time abroad. Now, thanks to COVID19, the whole thing has shifted a little more to video conferencing.
In addition to the many languages you have learned, you will certainly also benefit from the skills in human resources management – won't you?
STERITI: Definitely, because it is always about people – and every person and culture is different, both are interesting. Managing people is one of the biggest challenges in life. Anyone can have top skills, even if some people don't feel that way. People are the most important asset in a company. Of course, you will always be disappointed because you cannot see inside everyone and some people play the wrong game or manipulate. Then it takes courage to make painful decisions.
Do you often experience human disappointment?
STERITI: It happens again and again – and you are never prepared for it. Nevertheless, you should always be open – just as you are for new cultures. I always had contact with families in all the countries – whether England, Italy, Spain, the former Eastern Bloc or Africa. That's when you see how people "work", how they tick. West Africa was a very special borderline experience anyway.
Why was that?
STERITI: Back in Guinea, we tried to get into business by scrapping old bauxite mines. That was a challenge not only culturally and logistically, because the country was constantly on the brink of revolution. In any case, we had to flee head over heels because a coup took place overnight and the military took over. We had to flee the country, with gunshots and grenade detonations in the background! The last containers of scrap metal were brought out of the country months later through good relations. An exciting story, but in business terms it was a fiasco – but you learn from that too.
So you also see the positive in defeat. Would you call yourself an optimist?
STERITI: I was and am an optimist – even now in the situation with Corona. You always have to keep yourself in mind: Even where it rains heavily, the sun will shine again at some point. Of course, we will not be able to overcome the current crisis as quickly as we did the global financial crisis in 2009. Nevertheless, a crisis must always be seen as an opportunity. Take the automotive industry, for example: for years little or nothing has happened there, even after the diesel gate! With Corona, you are on the brink of the abyss and suddenly all car manufacturers are shaking up e-mobility projects. Sometimes this impetus is needed to get people out of their lethargy. It is absolutely human to become comfortable as long as things are going reasonably well – even if the approaching problem is already on the horizon. Often it is only an existential crisis that gives the impetus to develop further or to change something. For us as the Müller-Guttenbrunn Group, this is of course just as much a challenge, because as a producer of secondary raw materials we are directly affected by the problems in the industry. However, I am convinced of our company and look forward to mastering the new challenges. They are part of our lives. We must take up challenges, take the first step and then run.
From your statements one can conclude that you like to look at the big picture – or is this impression deceptive?
STERITI: I think so. As a decorator, you learn to think in three dimensions and perspectives. This is how you like to approach challenges and opportunities differently. Every decision can be viewed three-dimensionally, the personal side, the opposite side and the objective side. This three-dimensional thinking has often helped me in life – for example to eliminate risks. This does not mean that I do not make mistakes! As mentioned earlier, some things go wrong for me too. You fall to learn to stand up. 
Thinking in three dimensions will certainly help you in your current position as Managing Director of MGG Trade. We have not talked about that yet! What is there to say about the company?
STERITI: We partly market the secondary raw materials of individual MGG subsidiaries on the international market. Our main customer is Italy. We also ship certain mixed products to India.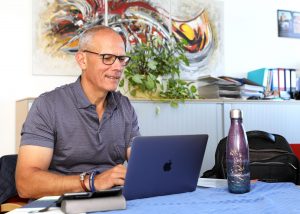 The corona pandemic mentioned earlier has changed the working world for many people. Does that also apply to MGG Trade?
STERITI: Three-dimensional thinking has helped me here, because three years ago we already started to focus on digitalisation and set up virtual workplaces. So we are no longer dependent on the location of the office, but can work anywhere. So the lockdown was not a big problem for us in terms of work technology. 
Does this mean that you are currently not going to the office?
STERITI: Yes, yes – I have the privilege of being able to cycle to our office in my home town of Buchs. Since our employees are currently on short-time work, I have to cover many areas. That's why I'm currently doing a lot of work that I don't normally do. For example, I am currently assigned to the telephone service again.
What about the trips abroad that you mentioned earlier?
STERITI: They have of course been drastically reduced. I always planned my trips a month in advance in the time before Corona. I like to do the planning and booking myself, so that I have a certain flexibility. That way I can change my hotel room or flight at the decisive moment. That makes many things easier. As travel is limited, as I said, I now exchange information with many people via video calls. Even with our Swiss team I communicate partly via face time. Corona will continue to drive many things forward – many things will become more dynamic and digital. Generally speaking, if I have to move physically, I will always be slower than a message by e-mail or the exchange via video chat. Corona may not be the last virus that will annoy us humans. However, since we do not want to live in a permanent lockdown state, we will have to adapt our lifestyle sooner or later. We are still in a finding phase, because nobody really knows where the journey will take us. We just must not be afraid, because fear blocks us. We have to take the necessary steps of our own accord to be able to shape the path. If we are not fast enough, someone will push us and then we have to follow the path we have chosen. I cannot say what the final path will look like, only that it will be tiring, but exciting at the same time.
Perhaps you can tell us something about the future of the secondary raw materials market in which you are active?
STERITI: As we all know, China is becoming more and more isolated, but continues to shower the world with cheap products. In the shadow of China, other Asian countries are also continuing to develop. It should not be forgotten that we cannot recycle certain products and materials. However, recycling waste in a completely clean way should become a basic idea in the future. For a long time, we chose the easy way and shipped waste to Asia and Africa, which, by the way, is still happening to some extent today. This is now falling on our heads. Europe must be a pioneer in this area – precisely because so many people live together in a relatively small part of the world. This is probably why we are thinking about it the most – and I am sure that the Müller-Guttenbrunn Group will make an essential contribution to this. It has already demonstrated this with the scrapping of cars and the recycling of electrical waste. 
On the subject of the Müller-Guttenbrunn Group, let me ask you a final question: you have worked for the Group for 28 years, have travelled a lot and seen a lot. What do you think makes MGG special?
STERITI: Many companies claim it, but at Müller-Guttenbrunn, people really are the centre of attention. The company is very social – I experienced this myself when I was struggling with cancer in 1998. I also experienced this during and after the financial crisis, when nobody was laid off. That's when you realise that you really do hold on to people and their know-how. I experienced it quite differently in a large corporation, where you are really just a number. Fortunately, that is not the case here. I've experienced ups and downs with the Müller-Guttenbrunn family. It's incredible how MGG has developed. It is always a pleasure for me when I see the blue-green trucks from the MGG companies somewhere on the motorway. Every time I get a little bit of patriotism, because I am proud to be a small part of it. There is a reason why I have been working here for 28 years. I feel good and I wish that this will continue. 
Mr Steriti, may your wish come true. In any case, many thanks for the exciting conversation and the interesting insights!