April 17, 2018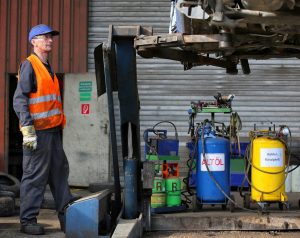 Michael Jungwirth ensures at MGG Metrec that many old cars get rid of all hazardous pollutants before their last trip to the carshredder. For the traditional MGG relay interview, 58-year-old man from Amstetten puts his tools aside for a few minutes and gives an insight into his working world.
Mr Jungwirth, how many cars have you already removed all the pollutants from?
Michael Jungwirth: I find that hard to quantify. There must have been several tens of thousands. After all, I've been doing this job since 1995.
How did you end up at this workplace anyway?
Jungwirth: After my apprenticeship as a locksmith I was looking for a job. When I passed by Müller-Guttenbrunn one day, I asked if someone was needed by chance. That's how I started as a material handling crane driver. I was sitting at the material handling crane for 13 years before I was asked if I didn't want to do car de-pollution work. I was immediately thrilled by that, because I simply like to work around on vehicles. So I don't know if I got the job or the job got me – anyway it is definitely a great job that I like doing.
It is important to work this field of car de-pollution – in other words, to liberate end-of-life vehicles from all possible dangerous components and fluids – in order to comply with legal requirements. But it is also decisive for the further process flow here at the Metrec site, isn't it?
Jungwirth: That's right. My work is really important to protect the shredder. And that is why, for example, I have to drain the tank from its contents and to suck off all other liquids from the car such as the engine oil, air-conditioning cooling liquids, brake-fluids and so forth to prevent possible explosion in the shredder.
That sounds like a dangerous job…
Jungwirth: Of course I am handling with hazardous substances – the job is about de-pollution. And it goes without words that it is important to ensure that nothing ignites. After all these years, however, the handling of all these work steps on the vehicles have become part of my flesh and blood to me. It just works – and with these end-of-life vehicles I don't have to take care whether something breaks or not.
How exactly does such a de-pollution work?
Jungwirth: The car is delivered and the handling crane driver makes sure that the vehicle is delivered to me. First I remove the battery, unscrew the tyres and then lift the car up with the hydraulic lift. Once lifted I remove one liquid after the other until the car is "dry".
How long do you need for this "car drying" process?
Jungwirth: That largely depends on the pollutants present. But on average it takes about 15 to 20 minutes. There are a total of about 30 cars a day – some of which are already delivered dry.
Have there been any vehicles among of which you thought "what a pity of this wonderful piece"?
Jungwirth: I'm not a big car fanatic, so it's rare. However, I do remember one Jaguar XJ8, whereby I had this pitiful feeling. But most of the cars get to me in such a state of demolishment that it doesn't hurt anymore.
Of course we also want to get to know the private person Michael Jungwirth a little bit better. So here's a final question: How do you spend your free time?
Jungwirth: I try to wipe out everything when bowling and I love to hit the central black mark shooting with a large calibre. And I also love to be in nature and finally there must be no lack of fun.
Then we wish you a lot of fun – whether at work or in your free time. Thanks a lot for taking the time for this interview.